Hunter Douglas and Norman Window Shadings
Orange Beach Blinds offers a wide variety of custom window shadings and designer screens to fit any budget. Window shadings are designed to let natural sunlight fill the room while eliminating UV damage to floors and furniture, regulating heat gain and loss, and reducing or eliminating glare.
With an increased emphasis on energy efficiency, green technology, and beautiful views, window shadings and screens are the perfect solution for today's larger windows and energy efficient homes. We carry the full line of Hunter Douglas, Norman, Alta and Graber window shadings, as well as a complete line of interior and exterior motorized shades from Insolroll. We also work with customers to automate their motorized shades through their phones, tablets, or voice-command systems, which is a great option for large or hard-to-reach windows.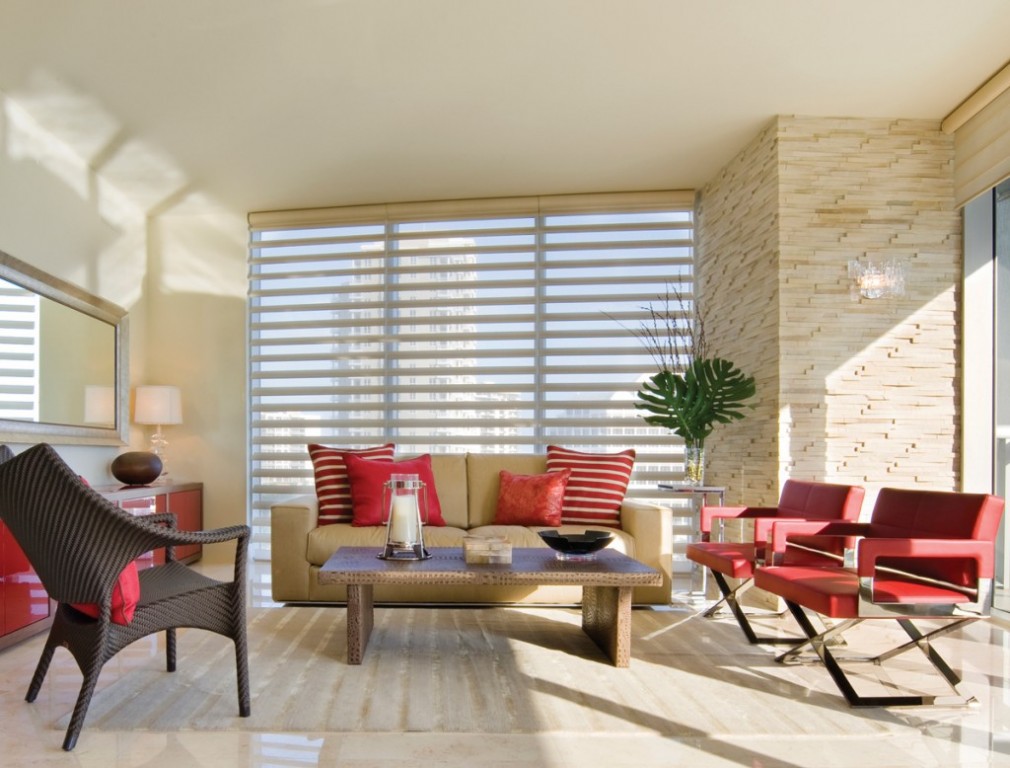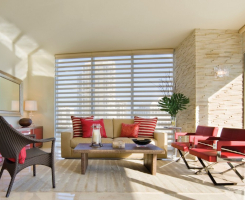 Pirouette Window Shadings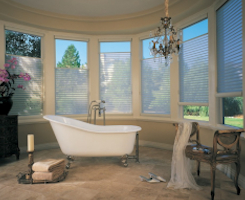 Horizontal Window Shadings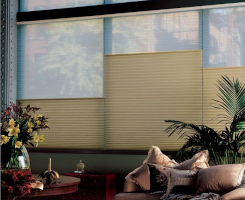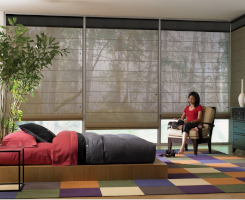 Pirouette Window Shadings
Uniquely designed with soft, horizontal fabric vanes attached to a single sheer backing, Pirouette® window shadings from Hunter Douglas control light in an entirely new way. Control the view with Power View motorization, or gently pull on the operating cord and the fabric vanes expand, beautifully filtering the natural light. Pull again and the vanes contract, providing a clear outside view.
Versatility – Pirouette Window Shadings are available in either semi-opaque or room darkening fabrics. Pirouette Window Shadings are also available in two vane sizes 4″ Petite and 5″ Grande. Vanes can be flattened or contoured for complete privacy, or partially to fully opened for varying degrees of light control and privacy. Exclusive to Hunter Douglas.
Shading rolls up into the headrail – No bulky stacking to clutter view when shade is raised.
Sheer back fabric – Blocks up to 81% of damaging UV rays and provides daytime privacy while still allowing view-through with open vanes.
Hunter Douglas Silhouette & Norman Perfect Sheer
Hunter Douglas created a whole new category of window fashions when launching Silhouette® window shadings. Silhouette® window shadings magically transform the look of a room by changing the harsh quality of exterior light into soft, radiant beauty. Hunter Douglas window shadings are made with superior materials and offer more choices than other window shadings on the market:
Light control and privacy – Silhouette window shadings assure privacy and manage light beautifully. Vanes simply tilt to the precise angle to let in the perfect amount of desired light.
Dramatic View-Through – Silhouette's patented ClearView fabric provides an even more spectacular view, eliminating the harsh light while maintaining a superior view!
As an alternative, try the NEW Perfect Sheer horizontal shade from Norman. Many of the same characteristics as the Hunter Douglas Silhouette at a reduced price!
Hunter Douglas & Norman Cellular Shades
Free Upgrade to Cordless!
Our innovative honeycomb collection from Hunter Douglas and Norman Window Fashions offer the most comprehensive selection of fabrics, pleat sizes and lifting options in the industry. Available in vertical and horizontal pleats, our honeycomb blinds come in a wide range of fabric types, colors and shapes. Hunter Douglas created the Duette over 25 years ago as an energy efficient window covering that allows for complete privacy and maximum view. This "cellular blanket" to the window softens the harsh light, creates an energy efficient buffer to the glass, and offers a variety of colors and pleat sizes.
Patented honeycomb construction available in single, double and triple layers.
Light control and privacy options – Include sheer, semi-sheer, semi-opaque and opaque fabrics.
Child Safety – Cordless lifting systems, such as LiteRise®, UltraGlide's retractable cord and EasyRise™ with cord tensioner for enhanced child and pet safety.
Design options like Top-Down/Bottom-Up and Duolite™ let you maximize natural light and privacy control.
Specialty shapes to fit any window – Duette honeycomb shades can cover almost any window, from circles to large sliding glass doors.
Lifetime Guarantee – As with all Hunter Douglas window fashions, Duette honeycomb shades are backed by the exclusive Hunter Douglas Lifetime Guarantee.
Designer Screens & Roller Shades
Designer Roller Shades and Screens from Hunter Douglas and Norman Window Fashions take the traditional roller shade to a whole new level of style. Designer screen shades offer a variety of fabrics, textures and colors to accent your lifestyle. Screen shades create beautiful views, protects floors and carpets from the harsh UV sunlight, and provides for an energy efficient Day-lighting of your room. Beautiful Views, Energy Efficient, Green Technology.
Extensive fabric choices – Designer Roller shades offer a variety of fabric and color styles ranging from classic to casual to elegant, allowing for a perfect fit for the most formal setting to the new nursery. Designer Screen Shades perfect the view to the outside by reducing UV, glare and heat build up. With the emphasis on energy efficiency and day-lighting, the Designer Screen Shade is a perfect solution for those areas of the home that need light and protection against the harsh sunlight.
Cordless Lifting System – Featuring a revolutionary spring operated system that eliminates the need for any cords or loops. Simply pull and release the bottom bar to gently raise and lower your shade to the desired position.
Motorization – Hunter Douglas Power View, Lutron, Q-Motion and Somfy. Raise and lower your shade with a simple touch of a button. Operating hard to reach and large shades has never been so easy!
Dual Roller Shade – Choose fabrics of varying openness for optimal privacy and light control. Choose a sheer to semi sheer fabric on one shade for filtered light during the day. Choose a light blocking fabric for the other shade for enhanced privacy at night. Never before has there been this much light control in a roller shade.