Plantation Shutters
Orange Beach Blinds offers the largest selection of custom designed plantation shutters in the Orange Beach area. For more than 25 years, we have been on the forefront of design and innovation, provided discerning homeowners with the highest quality shutters at the guaranteed lowest prices.
Hardwood Shutters feature unlimited possibilities in color and design. Hardwood shutters are lighter and stronger than their composite counterparts, and are seen as the premium interior shutter for your home.
Composite Shutters are perfect for your high-traffic and/or high-humidity areas, and are an Eco-Friendly alternative to wood shutters. They offer the same great look as hardwood but with superior durability and a slightly lower price point than hardwood. These shutters are UV protected, warp resistant, and offer a lifetime warranty against warping, peeling and discoloration.
Vinyl Shutters, sometimes referred to as Faux Shutters, have been the alternative to hardwood shutters for 30 years. Similar to other vinyl products, vinyl shutters offer a lifetime warranty against fading, peeling and discoloration, as well as being resistant to high moisture and high humidity situations. Vinyl shutters are Made in the USA and are delivered in two weeks! Your neighbors will never know!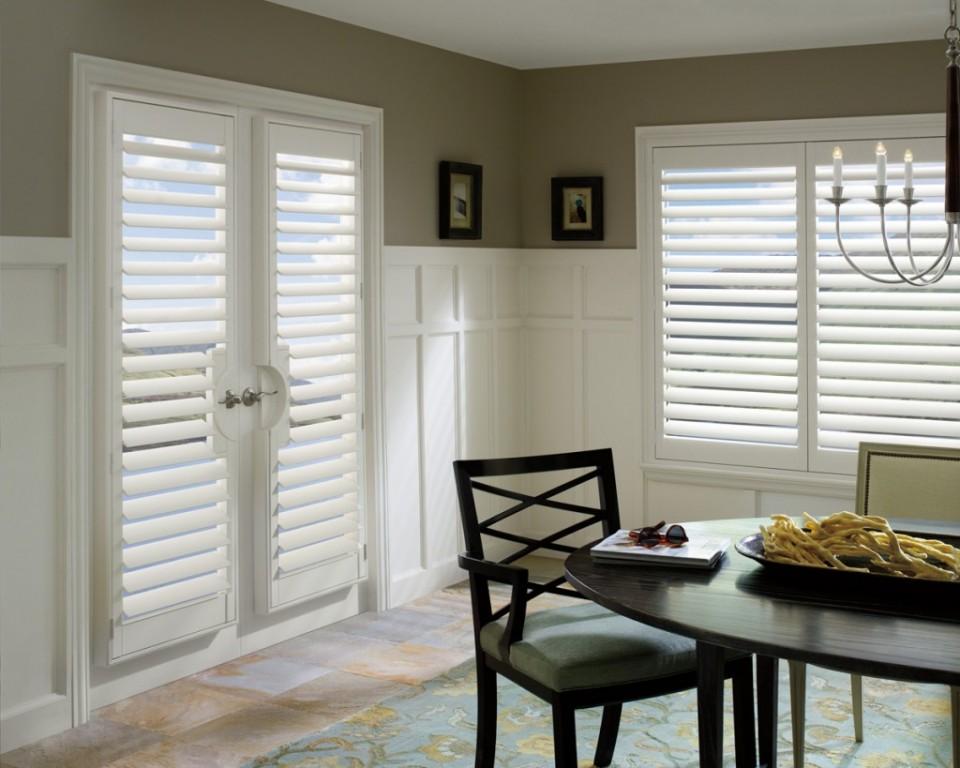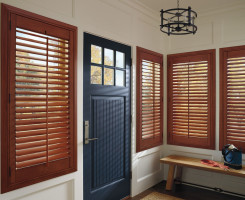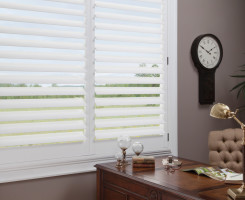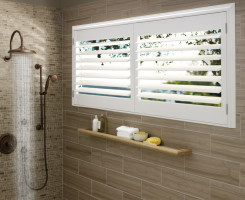 Hardwood Plantation Shutters
Experience the Beauty of Hardwood Plantation Shutters
Hardwood Plantation shutters from Norman Shutters will enhance the look of your home and provide one of the most energy efficient products on the market. Norman Shutters feature an unlimited palette of colors and stains, unmatched quality construction, and exceptional finishes! Ask why we only promote Norman hardwood shutters.
Product Features
1 ¼", 1 7/8", 2 ½", 3", 3 ½", 4 ½" & 5 1/5" Louvers

Invisible Tilt, Offset Tilt, Traditional Tilt, Motorized Tilt Shutters

Custom Hinges – Oil Rubbed Bronze, Stainless, Antique Brass & Hidden Hinge

Design Features – Liberty Arch, Custom Catches, Split Tilt, Divider Rails & Double Hung

Custom Shapes – Arches, Triangles, Eyebrows, Ovals, French Doors & Sliding Panels
Norman Brightwood Shutters
Engineered Hardwood Louvers create a strong, lightweight shutter available in 27 Designer Paints, Plus Custom Colors!. Brightwood combines the framing of our engineered Woodlore composite shutters with the louvers of an engineered hardwood louver. This eco-friendly manufacturing techniques reduces waste and makes for an economically priced wood shutter.
Norman Normandy Hardwood Shutters
A celebration of natural beauty and sustainable forestry. Normandy® Shutters offer distinctive wood grain with beautiful and natural characteristics. Phoenix Wood® trees grow back in just 7 years – making Normandy® Shutters an environmental champion with finesse. Available in 27 Designer Paints and 24 Luxurious Stains, Plus Custom Colors!
Norman Ultra Shutters
After years of research and development in forestry, Norman's proprietary farmed hardwood is ready. Norman's top-of-the-line hardwood is not only dimensionally stable, stronger and finely grained, it is also eco-friendly. Made of White Teak, the Ultra line features the largest selection of paints and stains, and details such as hidden hinges, Invisible Tilt, and hand carved rails. Norman Ultra is the finest wood shutter made.
3 Reasons to buy Hardwood Shutters:
Unlimited Color Choices and Options- Sherwin Williams and Benjamin Moore, 27 Colors – Plus Custom Pain and Stains

Wider and Taller Panels – up to 42″ wide and 180″ Tall – Less Limitations and Obstructions

No Sagging or Heavy Panels – Wood is lighter and stronger than Composite – No Sagging Panels!
Woodlore Composite Shutters
Woodlore Shutters start with a premium, solid, MDF composite wood core, and employ only the finest MDF materials and technology.
UV inhibitors protect against color fading and yellowing, and the patented polypropylene coating resists staining to ensure long-term performance in a variety of environments. Woodlore Shutters withstand temperatures up to 140° F, and won't sag when exposed to window heat. In addition, they resist cupping and warping by using engineered stiles that ensure a straighter panel, tight closure and smoother panel and louver operation.
Woodlore Plus Composite Shutters
Similar to Woodlore shutters, Woodlore Plus uses an advanced ABS material for the louvers that allows for a more durable louver and wider panels. With panel width up to 36″, Woodlore Plus has all the same advantages of the worry-free Woodlore, but with the same structural abilities of a hardwood shutter. It's our go to shutter!
Woodlore WaterProof Solid Poly Shutters
Legendary style with added protection to push the limits. Woodbury® is made from advanced ABS polymer and offers enhanced waterproofing with a UV inhibiting finish. Stunningly beautiful with an array of options. A shutter so advanced, it's impervious to humidity and condensation, great for any room.
Hunter Douglas and Eclipse vinyl shutters have been the choice alternative to wood shutters for over 30 years. Our Hunter Douglas Palm Beach and Eclipse poly vinyl shutters are the most durable shutters in the industry, with materials that are GREENGUARD Certified, fire resistant, and will not warp, peel, or discolor. Made in the USA – Hunter Douglas/Eclipse 25 Year Warranty
"Looks Like Wood/Feels Like Vinyl"
Features
DuraLux Finish gives the soft look of a wood shutter

Reinforced aluminum Stiles, Rails, Frames and Louvers

Three Neutral Whites

2 ½", 3 ½" & 4 ½" Louvers
3 Reasons to buy a Vinyl Shutter:
Maintenance Free – Soap and Water Clean Up, Fire Resistant, Extremely Durable

Fast Delivery & Easy Installation – 3 Week Delivery

Made in the USA – Hunter Douglas/Alta Lifetime Warranty